Events
Golden Plains (finally) turns 15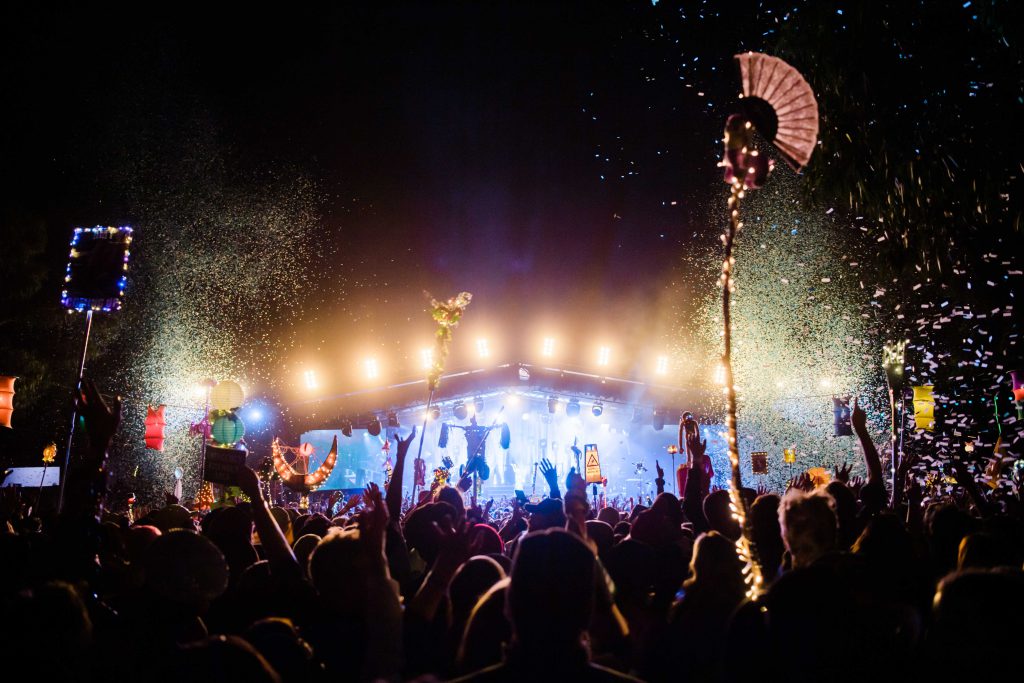 Turning 15 years old can be a formative time in a young person's life - added responsibility, greater independence and a changed outlook on life all begin to shape who a person will become. As Golden Plains turns 15, we want to take the opportunity to reflect on the importance of such a pivotal milestone and how Aunty has prepared for the big day, albeit a few years later than initially expected.
For my 15th birthday I had a group of ten or so school friends around, played PlayStation 2, ate party pies and mentally calculated whether the amount of money I was accumulating would be enough to pay for Pearl Jam tickets. Apart from the eye-opening experience with a prominent 90's rock band and that two members of Delivery were in attendance, that is about where the comparisons end. As Golden Plains turns 15, vapes are in, strobes are out and after three years of downtime and mulling on how good Pixies were in 2020, the Meredith Supernatural Amphitheatre feels as reassured in themselves as ever.


Saturday
Day one begins as I abandon campsite duties to enter the Sup' for the first time, in time for the Smoking Ceremony and Chris Nolan's Long Blink - a uniquely Meredith, cutting of the red tape, of sorts. Golden Plains 15 is officially open for business. We are then welcomed to Wadawurrung land by Tammy Gilson, who reminds us to care for each other and the land "as if it were our baby".

As an omnipotent voice declares over the sound system "It's the sound of triumph", we all take a moment and Stiff Richards take the stage. The Ninch heroes tear through opener 'Point of You' and well and truly blow the dust off of Golden Plains. Vocalist Wolfgang Buckley spends well in excess of 50% of the set down with, surrounded by and on top of the crowd. The front-of-stage security well and truly earn their pay checks, as Wolfy fully utilises every last centimetre of their mic lead and takes off through the crowd on a pair of shoulders. "Thanks for being here on the best day of my life", he says. Boots come off. The sound of triumph rings across Meredith shire.


| Welcome To Country with Tammy Gilson | Stiff Richards |
| --- | --- |
I return to camp, catch my breathe and we fill an ice bag full of cans. Mo'Ju hypnotises, Armand Hammer get everyone buzzing and Mdou Moctar brings in golden hour with a festival highlight performance. An array of enthusiastic Mdou Moctar punters poorly attempt to clap a four over six polyrhythm and the Golden Plains magic ramps up. Oh boy. It's as if no time has passed at all.

Angel Olsen returns to the Supernatural Amphitheatre as I again return to the Sup'. A couple of beers left in the bag. I get a good spot. A sea of adoring fans quickly surround me and we hang on every word. 'Sister' and a cover of Harry Nillson's 'Without You' close her set and we ugly cry together. As comfortable as can be. Felt good to get the dust out of the eye sockets after a big day.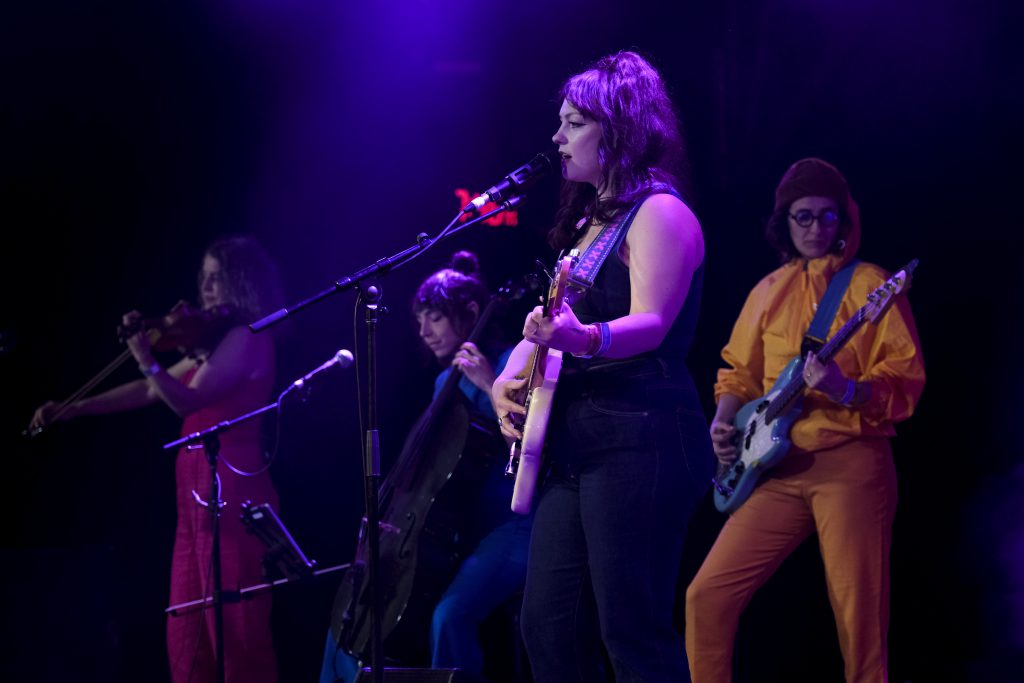 Food O'clock. Some sort of burger thing. Crowd erupts. Fifteen year old me awakens. Shit, Bikini Kill are on. Kathleen Hanna completely commands the amphitheatre and I hang off every word. As essential as ever and I feel extremely lucky to have been there for it.

Methyl Ethyl and Rochelle Jordan soundtrack the finding of my marbles. Search for friends. Green couch. Pink Flamingo. Purple lantern. Pink Flamingo. I find them. We dance like we're cutting each others hair to 'Ubu'. It all starts to get very silly, really.

"Australia's first K-Pop group" 1300 round out my day one, tearing the Meredith Supernatural Amphitheatre a new one and winning over a legion of new fans. "Overmono will be sick", someone tells me as I head to bed. I don't doubt it. My body fades and I definitely don't feel fifteen anymore.


| Bikini Kill | 1300 |
| --- | --- |
Sunday
Sunday begins to the voice of Freya Josephine Hollick singing 'Rhinestone Cowboy' and a faint singing along from campsite and amphitheatre alike. Freya remarks, "I've wanted to play this festival since I was 15 years old" as I return to the amphitheatre and 'Nobody's Better than No One' begins my day two in a beautiful way. A huge Sunday starts ramping up.

Muesli Bar. Coffee lines. Brush my teeth (pretty proud of this one). Bloody Mary. Storytelling with Uncle Barry Gilson. Standing ovation.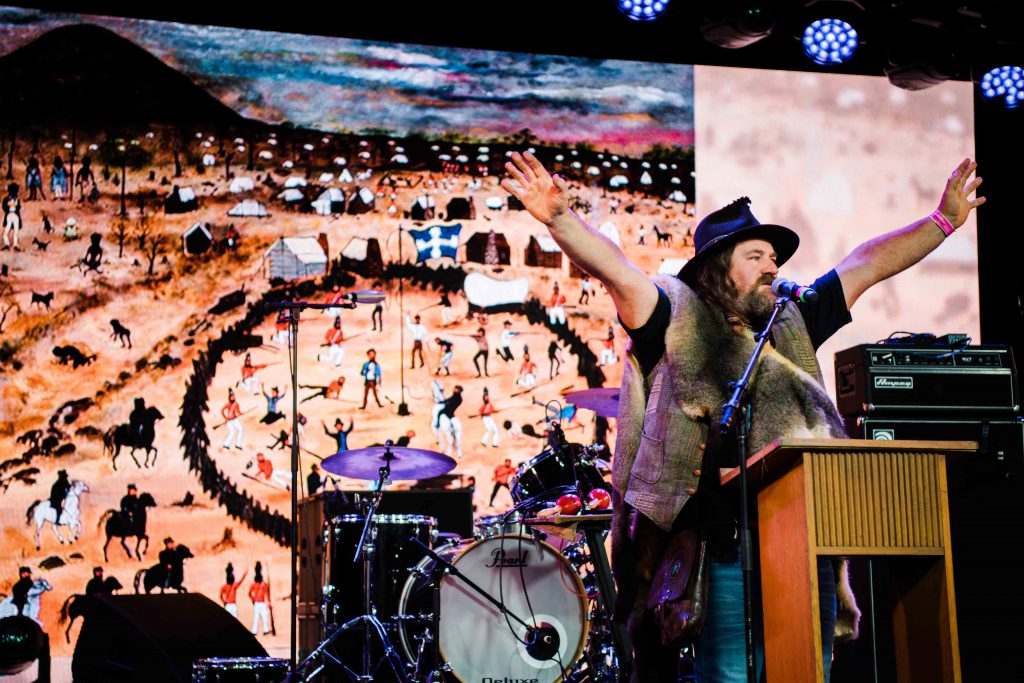 EXEK bring me back to life in the midday spot. Back to beer. Get changed into my Delivery shirt. Put on my boots (not for long).

Despite the fairly large, aforementioned conflict of interest (plus ya know, the whole Trouble Juice thing), I made my way to the stage with notebook and integrity in hand, prepared to accurately review the 1pm slot. Delivery take the stage with the promise "we're gonna play you some rock songs". Jumping kicks. Guitars behind heads. Someone claims they saw a duck-walk. "Any music reviewers out there?", one of their members quips as I sip smugly on my milk carton of Aldi brand Baileys. Guitarist/vocalist Sam Harding dedicates the next song to his Ford Falcon and a whole lot of boots soon emerge, and not all that many go back on for the remaining 15 minutes. (How's that all sound Lynchy? xx)

Mulalo continued the Sunday boot-fest with another festival highlight set, managing to fit the entire amphitheatre in the palm of her hand. "I'm from an hour down the road" she proclaims between giving female-only shots to the front row, making sure everyone knows how sexy her boy Angus is looking and getting everyone with a charged phone to add her dancers and DJ on Instagram (@chantal.bala, @kaleece.miracle, @caucasianopportunites btw). 'Tracy Grimshaw', into 'M31', into the Nerve remix. Boots everywhere. Another big highlight.


| Delivery | Mulalo |
| --- | --- |
Andrew Gurruwiwi Band next and 'Gatjumak' emerges as another most-booted contender. A Brian Jackson masterclass follows and he balances a set of his own songs and Gil Scott Heron classics. As he closes with 'The Bottle', Golden Plains explodes. "Put those things down, I can smell them from here", Jackson laughs, looking across a see of Blundstones. Soichi Terada radiates joy and 'Saturday Love Sunday' and a quick Kiss sample resonate quite intensely. I find it very hard to peel myself away from it.

Food lines grow. My feet hurt and I return to camp. Costume change. Sacrifice Earthless. "Oh man, that was my set of the festival", says a returning mate. Shit.

Rolling Blackouts follow a gorgeous sunset and their home crowd greets the band just as warmly. 'French Press' closes out their set and they round out a pretty mind-blowing day of music. "We love this Festival" they announce, and the crowd clearly agree.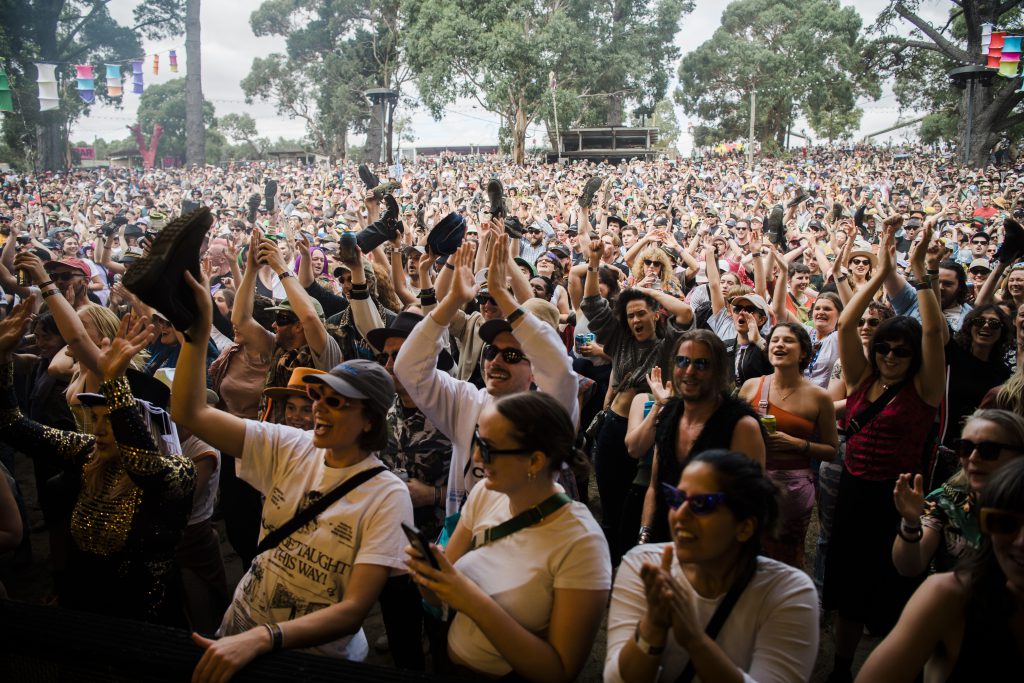 Night falls and Soul II Soul take over. I have a crew and I cling to them. Purple Lantern becomes the orange lantern becomes the three-coloured lantern. Vibes are high, but we leave a little early to reset and restock on drinks. We don't imagine we'll be back there for a while after this.

The stage goes black and there's an anticipation in the air. It's not lost on me that the readers of Trouble Juice don't come here to read about Carly Rae Jepsen, but it's worth noting the contentious headliner. Other people's opinions echo in my head as I watch the stage-side clock count down. "I'll watch it from the couch", "Emotion is a perfect album", "People talk shit about 'Call Me Maybe', but I bet they'll be fucking singing it when it's on". I position myself between two mega-fans and trust Aunty. The opening chords of 'Surrender My Heart' blast through the amphitheatre and I do as I'm told. There'll be plenty of talk about this one for a while. A triumph on a few levels, if you ask me.


| Carly Rae Jepsen | The beautiful Sup' |
| --- | --- |
CRJ quickly becomes a marathon, three-hour Four Tet set and it all feels like quite a moment. A very reassured, good-to-be-back sort of moment. "Definitely go with the fifteenth birthday angle" I quickly note in my phone. Four Tet is fascinating and ticks just about every one of my remaining boxes. I begin to fade, though Minor Threat's 'Salad Days' brings me back for a moment.
I give up on our long lost beers bag. I find a familiar, friendly couch and we unpack the day. We reflect on the beauty of having Delivery and Freya Josephine Hollick on the one same stage as Carly Rae Jepsen. We reflect on what sort of beautiful crowd allows that to happen. We digress.
"Do you reckon those confetti cannons were there during Delivery's set?"
"Do you reckon Carly Rae Jepsen knows what the boot thing means?"
"Nah there's no way she's camping back there though."
"Danny said the artists have drop toilets back there too."
Time for bed. Thanks Aunty.