Events
Baked Goods x Trouble Juice
(Un)Official Showcase at BIGSOUND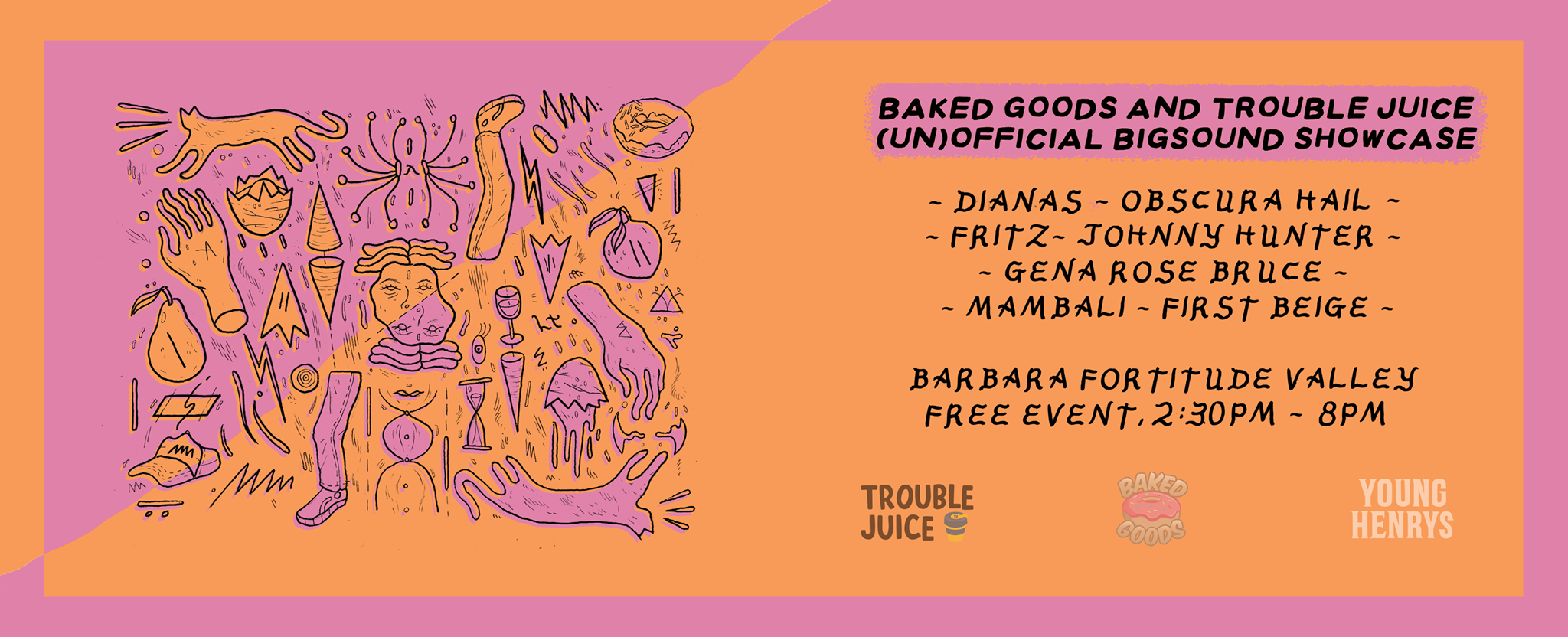 This year at BIGSOUND, we're teaming up with our buds
Baked Goods
to throw our very own unofficial showcase on Wednesday, September 4th, at Barbara. With some of our favourite noise-makers from around the country taking the stage, plus some cheeky drink specials courtesy of our friends at Young Henrys, it's set to be a very fun afternoon and we're beyond excited.
Ahead of the big day, we thought we'd give you an advanced tasting of what we'll be serving up.
Dianas
Both ethereal and illusively volatile, Dianas have been one of our favourite local bands for a while now and we're thrilled to have them kicking off proceedings at Barbara. Powered by their mesmerising grooves, each track unfolds as layers of guitar and bass swirl and tangle effortlessly while their crystalline vocals cut through the haze. At a time when the combo of guitar, bass and drums can sometimes feel a little worn, Dianas constantly manage to journey into uncharted territory that never fails to feel transcendent.


Obscura Hail
Melbourne-based Obscura Hail are one of the more prolific and intriguing acts we've had the joy of coming across with Trouble Juice. Their sound is an eccentric mix - cunning, honest lyricism, mind-boggling arrangements and captivating drum machine beats, with a coating of charm across the whole thing that you'll fall in love with. 2018 album Pallbearer was one of our favourite releases of last year, and less than a month ago they dropped 'Swear Jar', the first single from a new album Zero has us very excited for what they'll have for us next.


Fritz
Dream-pop might be having a day in the sun this year at Bigsound, but few bands manage it with the same explosive energy as Fritz. They specialise in illustrious walls of sound, blurring the line between immersive and overwhelming spectacularly. If you make it the show, don't be surprised when you're lulled into a false sense of security by their woozy soundscapes, just to be left flailing as they rocket out from underneath to take us somewhere else completely.


Johnny Hunter
Sydney's Johnny Hunter are a fine blend of glam-rock showmanship and classic rock bravado, served with more than a fistful of post-punk attitude. Nostalgic and classic sounding, yet still refreshingly relevant, we're absolutely hanging for their forthcoming debut album. With a songwriting eloquence that could draw comparisons to that of Steve Kilbey of The Church and a live show that we've heard is out of this world, we're stoked we could get them on board for the show.



Gena Rose Bruce
Gena Rose Bruce released her debut album Can't Make You Love Me in June, and we were immediately struck by her ability to both lean into and defy the tropes of a traditional break-up album. With an uncanny ability to blend minimalist grooves with her undeniable swagger, each track brims with emotion as Gena's intoxicating voice weaves around the sprawling instrumentals. It's an album that'll leave you completely captivated from beginning to end, and we can't wait to finally catch it in the flesh next week.


Mambali
Mambali exploded into our lives when we saw them at Meredith Music Festival last year having released no music, they've well and truly rooted themselves into our heads by now with their latest single 'Yuwani' featuring Emily Wurramara. Combining cultural songs, sung predominantly in their first language Nunggubuyu, with groove heavy drums, blistering guitar playing and tons of swagger, Mambali's sound is joyous, infectious and is going to be so nice to groove down to as the sun starts to set over Fortitude Valley.


First Beige
Finishing off proceedings with Brisbane's own, First Beige blend synth-heavy disco sounds, suave vocal hooks and bucketloads of house grooves into a psychedelic dance party that'll blast Barbara into outta space. With a live performance that is said to be one of the rawest, most energetic going through Brisbane at the moment, we're all kinds of excited to be able to finish our day on a high note that'll set you up for a big night out in the Valley.
The Baked Goods X Trouble Juice (Un)Official Showcase takes place on Wednesday, September 4, at Barbara in Fortitude Valley, Brisbane, kicking off at 2:30pm.