Music / Features
Track by Track:
Sunnyside - Body Heat
Just in time for the sunnier side of the year, we have the almighty pleasure of going track-by-track with Melbourne's dance floor overlords Sunnyside to premiere their slick-as-hell new album Body Heat.
For the last couple of years now, Sunnyside have been that band that either your mate's friend from work or your partner's brother or that girl you met at Gizzfest have been telling you that you have to go see. Whether it's at a larger festival stage or Yah Yahs at 2am, the hype around Sunnyside's live show has been snowballing out of control. And now with the release of their first full length album, they're faced with the problem that is the downfall for so many killer live acts - can they back it up on recording?

As the opening track 'Disco Bananas' begins, Sunnyside waste no time, lassoing you in with four-to-the-floor drumming, Nile Rodgers-esque guitar and a tastefully used hand clap. As the lead single builds and Sunnyside's spell intensifies, the disco-vibes turn psychedelic before dropping you straight back in the middle of the dance floor - right where they want you. On 'Boostin', the band introduce Matt Hall's smooth-as-butter lyrical style and the band spread the summer vibes thick as they swap from sax to clarinet, which also hangs around for 'Henry Who?' and 'Interloop' - two of the smoother moments on the record.

As Body Heat continues to rollercoaster through loungier moments, big sax riffs and grooving psychedelia, Sunnyside's spell doesn't fade in the slightest. For those who make it to the end of the album, Sunnyside serve up 'Kettlz' On', a cosmic disco-psych voyage that flexes the band's songwriting muscles and wraps up the album in an enormous way. Body Heat is just as good a cleaning the house record as it is a way-too-late-on-Saturday-night record.

Yeah nah, they've done it.

We got in touch with Sunnyside to talk us through that journey too, so you don't just have to take my word for it.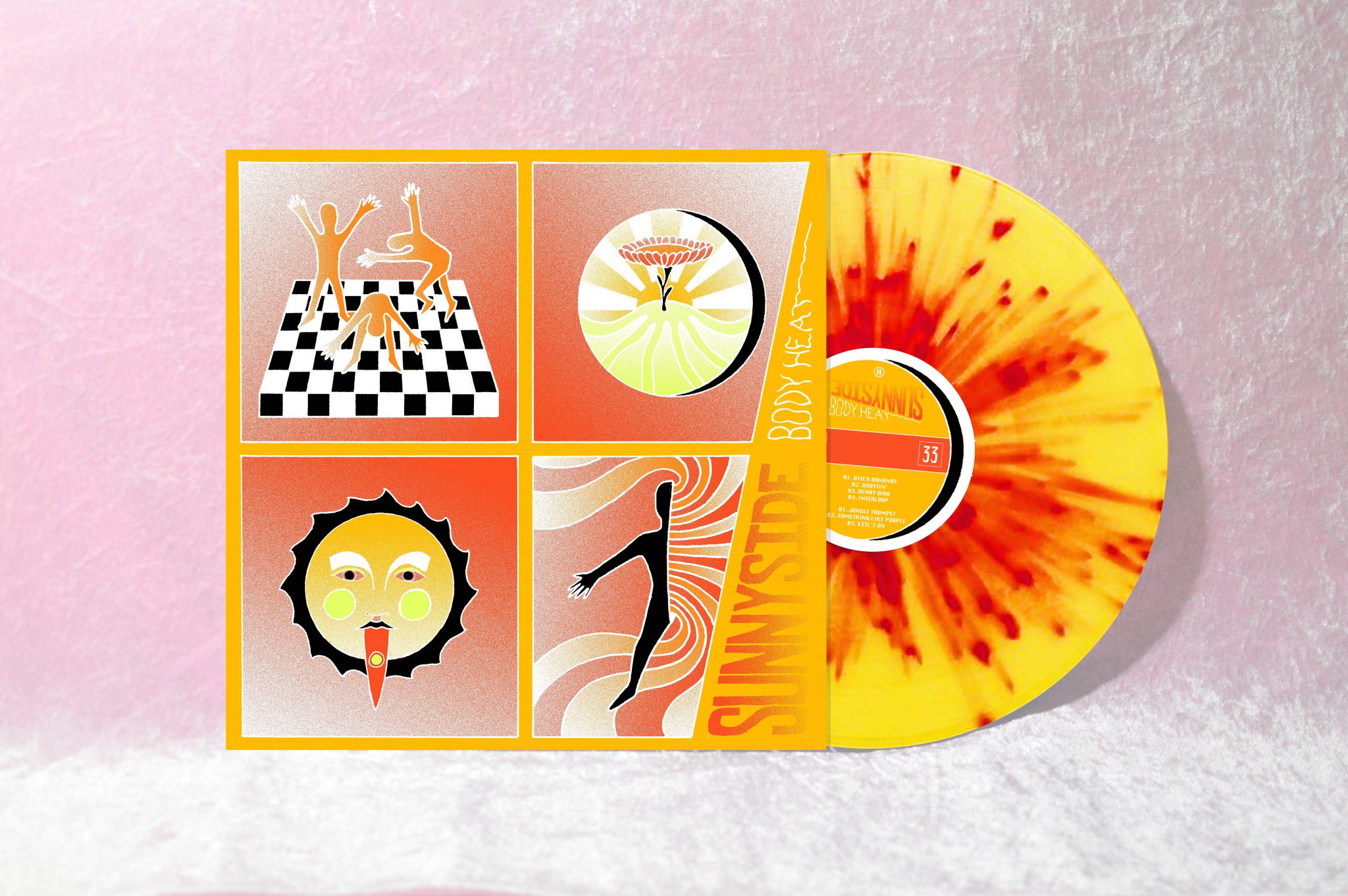 Disco Bananas

The finished product out of t mix is a blend we're calling 'energetic disco-funk, a fruitful journey that winds up, breaks down and then drops you into the deep end only then to bring you back above the dance floor for one last swim', inspired by James Brown and disco music. Simple.

Boostin'

Boostin' at its roots is a clarinet and guitar jam that blossomed into something special for the band over time, with the aim to get you moving and boostin'. It takes you across the world as Matt pulls up topics of world peace, nature and family that aren't easy to swallow, but empowers you to feel as though everyone is doing their best to make this world a better place. Layers of clarinet and acoustic guitar give this track its dreamy finish.

Henry Who?

A challenge in rhythm & time, an ode to Henry Wu and the cultural greats of rhythmical break beat and house music. There's a weird colorful expression in each instrument throughout this track with crushing percussion (needs more whistle) and a heavy drum beat backed by a floating bass line that takes you far far away to be laid down gently in another place.

Interloop

Feels like a spring afternoon, tastes like a midnight snack. Inspired by a keys part originally, then a Clarinet and Guitar line that came to life in the studio, watch for the bass line to move you along, it's a good time. this is a palate cleanser, think pickled ginger in a cup of sparkling water. Flip me, next side please.

Jungle Trumpet

I'm running through deep jungle, alone, all I'm guided by is the sound of brass and gaps of sunlight in order to make my way out. Many sections, and many trees and thorns that will cut your feet if you take the wrong step.

Something Like Purple

A refreshing rhythm change that helps you sale away into a purple haze. Spark up in the second half of the tune, it's a good move before the juicy sax solo. inspired by chilli peppers and Mary Jane.

Kettlz' On

Vocally, take a stroll through the day in the life of a hospo/musician, they got a taste for the flavour you need. Someone should put the kettle on for a nice cuppa tea, you're gonna need time to get through this multi section, transforming, trip of a life time to end the album.

Thanks again Trouble Juice and to all who have had a listen!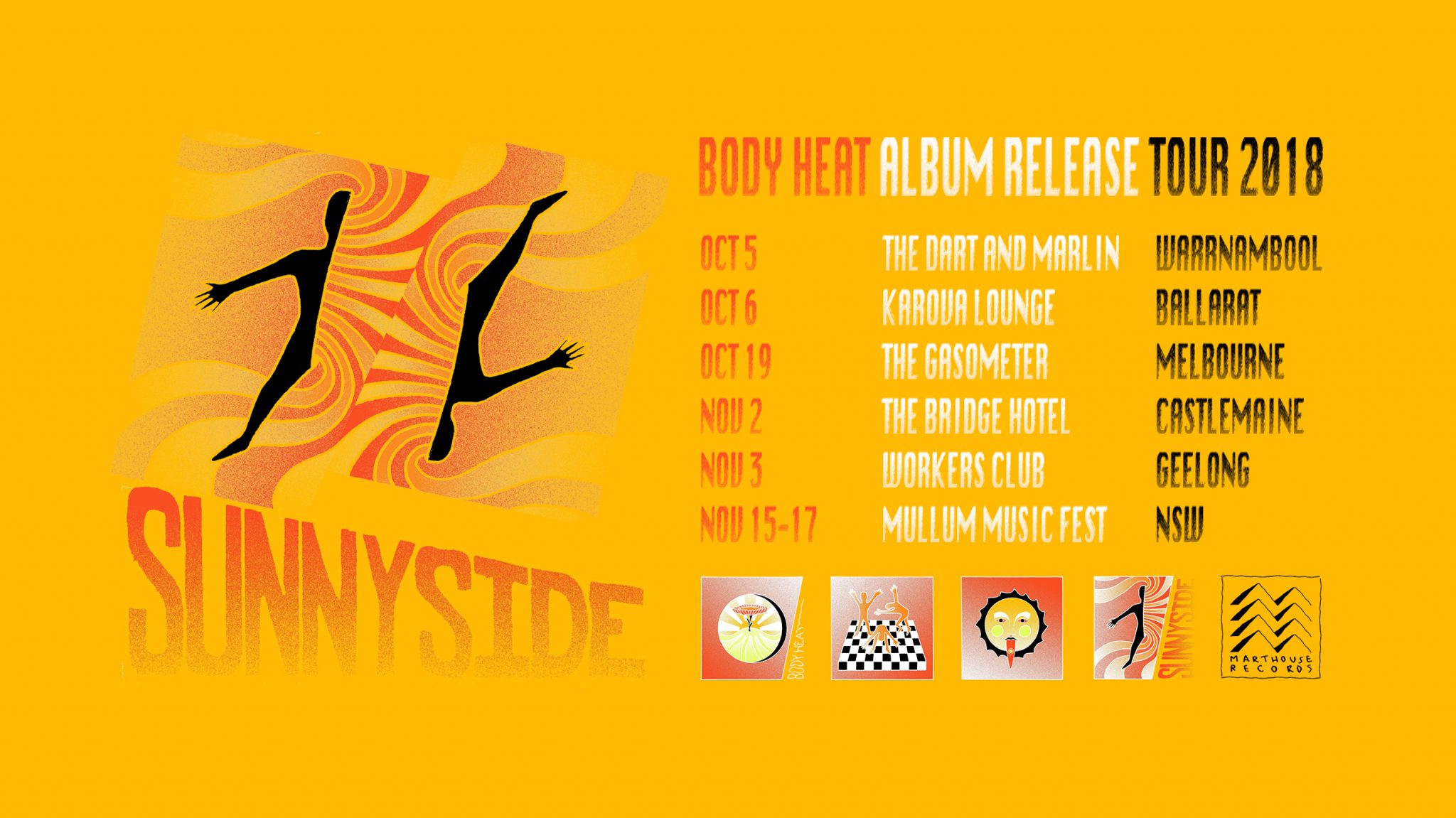 Check out Body Heat above and in all the regular places, and catch Sunnyside live across Australia for their Body Heat tour.